Police investigate offences they consider acceptable behaviour
Police have released
another review
of the Section 59 legislation.
Beth Wood from EPOCH says its
all good news
. That's because the Police
state
there is a reduction in smacking events attended in the past quarter. So why does Family First's Bob McCoskrie say there is a
substantial jump
?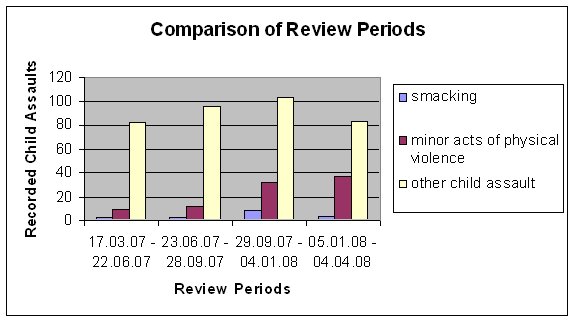 Here's why. Police have divided corrective discipline into "smacking" and "minor forms of physical violence", the latter rate having gone up every quarter. I asked Belinda, who heads the Police team who did the report, what the distinction is between these two categories.
She defined smacking as a corrective smack on the bum with an open hand; which most people - even in the police, but perhaps not Sue Bradford - would view as acceptable discipline. She said there was no difference between smacks and minor forms of physical violence, but agreed that the latter constituted "something more than a smack on the bum" .
Like two smacks, perhaps.Which most people would also view as acceptable. She also agreed that the wording should have been " minor forms of physical discipline" as per the wording of the report and to reflect the corrective aspect of physical discipline, and the majority were of the kind that would be successful in a reasonable force defence in court. Any discipline with an implement is child assault.
So, Police consider most minor forms of physical violence are acceptable smacks. Police investigated over more than cases of corrective discipline since the law change, with an increase each quarter. Two were charged with assault so they were obviously not minor forms of physical violence.
Colin Espiner makes the point that
law abiding parents haven't been prosecuted
. Well, neither have parents who have been investigated and found to have inconsequentially broken physical discipline laws. Parents are being investigated for things that police view as acceptable, and they are incorrect to claim that they are attending less smacking events.
Mike Hosking does a pretty classic interview with Rob Pope; and also Sue Bradford and
doesn`t believe a word she says
.
Labels: police, section 59
Scoopit!